Saturday was interesting
I've never had bad luck flying in my life--I've never even had a late flight But the Saturday we left for California, we had a flight was six hours late Instead of getting to LAX at 4:25 PST, we got there at 10:30 or so, PST
And my bag was lost
So basically, I got all the bad luck except for a cancelled flight in one trip
Saturday, the flight was six hours late--a "mechanical problem" whatever that meant in actuality What it meant in reality was that we got to Oakland late, and we had to change planes--when originally we didn't have a transfer So Mary and I bolted down the empty hallways of the Oakland airport at what felt like 1 AM to us, for the flight to LAX
We got to LAX, and as I thought, my bag hadn't made the trip So I had to fill out the form in the baggage office, and we hailed a cab and got to our hotel, where we had no problems and received warm cookies, and fell into bed around 2 AM our time--11 PST
Since my bag hadn't arrived when we woke up the next morning, Mary went to Mass by herself and I stayed back in the room since I didn't have anything else to wear to Mass, and I didn't want to go in the outfit I'd worn yesterday--and let's not even talk about my hair
After checking with the front desk a few times, it was revealed that my bag HAD been delivered at 3 AM--but the front desk forgot to tell me So I retrieved it around 11 AM, took a real shower, put on clean clothes, and felt human again
After Mary got back, we decided to tour Hollywood, so our first stop was the Ghirardelli chocolate shop in Hollywood, so I could do some pin trading!
For those of you who don't know what pin trading is--basically it's like baseball/hockey cards, except, with pins The pins depict Disney characters/rides/hotels/theme parks--anything Disney-and you can trade them at the parks, with cast members, with other collectors, and online Pins from the Ghirardelli shop are especially prized, because you can't get them anywhere but this shop in Hollywood So I had to go and get my own Pin Trader Sundae Pin I got Winston, the butler from Oliver and Company
After ice cream, we walked some of the Walk of Fame, and went to the Dolby Theater, where the Academy Awards are held One of my favorite things about this was that the best picture winners are arranged on the pillars, by year--and the pillars go until 2071!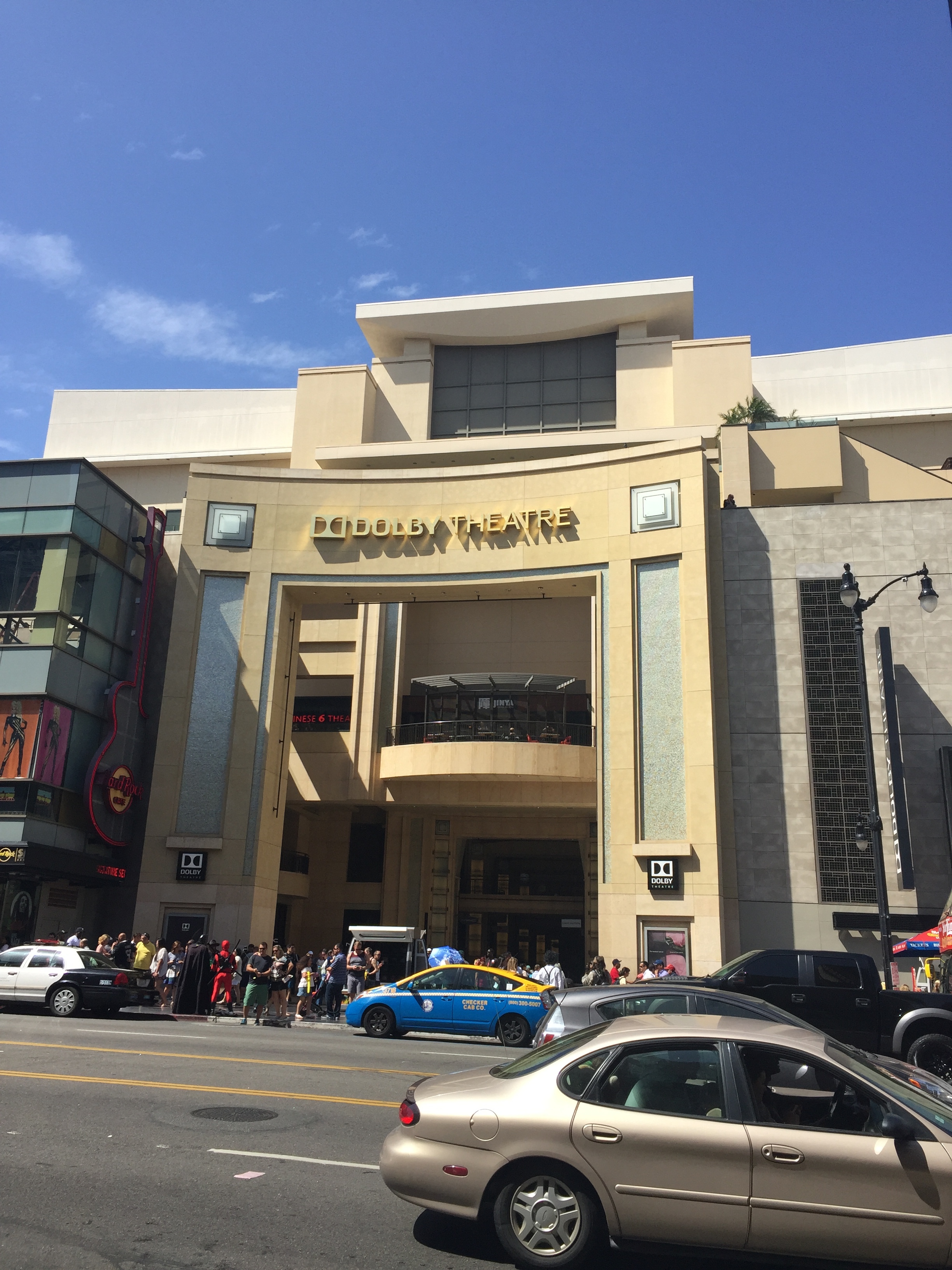 (One thing about the Walk of Fame--you have to pay to have a star there A committee decides who will be offered a star, but the star (or the star's company) put up around $30,000 to get the star put on the Walk of Fame Donald Trump has one, and man, that star was getting a lot of abuse, so I guess his $30K will go toward keeping it free of graffiti, which tells everyone exactly what people are thinking about Donald these days)
We decided to have dinner at Santa Monica Seafood, which was a great decision I had an exquisite salmon fillet, and it was a beautiful spot I had no idea that roses grew so well, so close to the ocean Obviously, I knew the Rose Bowl and Rose Parade were in Pasadena, which isn't too far away, but the sheer extravagance and variety of roses that were everywhere we went was overwhelming
On Monday, I had rehearsal at the Sony studio (which was actually also a potential tape day, although I didn't know that then)--so we went back to the hotel and I was in bed pretty quickly, since I had to get up around 6:15 the next morning!